How to Choose an Outplacement Services Company?
Posted by Neil Faragher on
Companies in all industries are faced with change; business and the world around it moves and companies need to adapt. This is why businesses and organisations find themselves making redundancies and moving on staff, acquiring new personnel with different skill sets and individuals who fit the modern business structure. Managing this process in a healthy, effective manner is crucial in maintaining brand images and remaining employee satisfaction. Moreover, happy ex-employees spread positive information about former employers, whereas unhappy ex-employees don't do you any favours at all.
Selecting a company to provide effective outplacement services that deliver results can be a challenging endeavour. It's important to ensure that you're getting value for money, that you know where your money is going and which specific services will be included.
Here, we provide a list of questions to consider asking when choosing an outplacement provider.
1.   Is the service personal and bespoke, or is it designed for large groups of individuals?
Bespoke, personalised outplacement programmes are much more effective than programmes that are designed for large groups of individuals. It is important to develop career strategies on an individual basis; this means each employee needs to have a programme tailored directly to his or her requirements, ambitions, goals, skills and experiences. Some outplacement providers offer generic programmes, which don't deliver results because they simply aren't providing what works for certain individuals.

2.   What is the length of the outplacement support?
A key question to ask when deciding on an outplacement services provider is how long does the support last. Is it a one-time service or does it continue for an extended period of time? Ideally, you want the service to continue for at least six months. It is also important that each employee has access to daily contact with the outplacement provider during the course of the programme.
3.   What types of services are included?
Make sure you're getting value for money in terms of what's included in your outplacement packages. Some companies – including CV Nation – will include a comprehensive range of services, everything that is required to facilitate the smooth transition of individuals to new positions. Other companies might provide more basic packages, such as job interview coaching and a CV rewrite. Ideally, you want your outplacement provider to offer job interview coaching, bespoke CV creation, individual job sourcing, social media profile creation (Including LinkedIn profiles), cover letter writing, job application form writing, ongoing support, consultations, and access to valuable career documentation.
4.    What is the depth of the service?
How much time will be spent on your employees? How much work will be completed on their behalf? Some companies don't provide the tailored, in-depth type of service that is required to ensure efficient transitions to new positions. These companies don't really dig-deep and put in the required level of effort and time to ensure they provide a service of optimal effectiveness. Also, look for words like 'assistance'. This may mean, for example, the outplacement provider will offer assistance with CV writing, but will not actually write the CV personally.
5.   What importance do you place on communication & engagement?
Ensure that the outplacement provider understands the importance of regular communication and engagement with employees. For the process to work, the outplacement company must employ a collaborative approach and ensure strong communication on a consistent basis. Employees need to know how the service will work, what is included and what is required from them. At CV Nation, we provide easy-to-understand guides to employees that explain how the process works. We also schedule monthly consultations to confer on progress, alter strategies and ensure we are progressing towards achieving our goals. Furthermore, we are available on a daily basis to speak with employees via email or telephone on any issue.
6.   How flexible are your outplacement services?
Make sure the outplacement company is flexible in terms of the services provided, your budget and your specific requirements. You might want more or less services included in your outplacement programmes than the provider generally offers, and the price should be adjusted accordingly. Reputable outplacement companies such as CV Nation are willing to adjust their packages to meet clients' demands and budgets. It's also important to ensure the provider is willing to adapt to employees' changing needs, as well as the employers.
7.   Will you provide specific support to our company during the layoffs and RIFs?
Is the outplacement provider willing to travel to your offices or city to support you during this difficult process? Will they offer support in a counselling capacity while employees learn about the redundancies? Will they travel to meet with transitioning employees to explain the outplacement process face-to-face? These are important questions to ask when choosing an outplacement provider. Ensure you get value for money and a more effective service by involving the outplacement provider in all facets of the redundancy process.
These are all important questions to ask when choosing an outplacement services company. If you would like further information on CV Nation's outplacement services or would like to see if we can help you, please feel free to get in touch with us.
---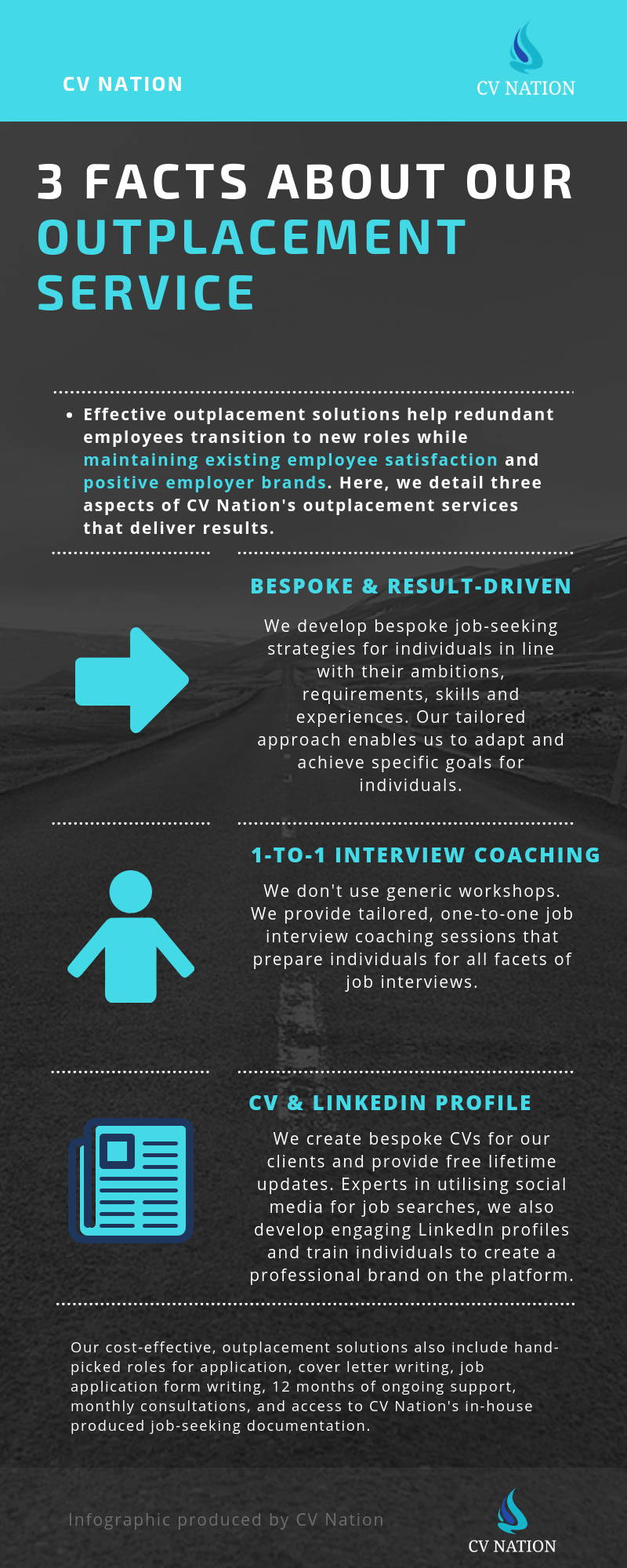 ---
Follow us on Facebook and LinkedIn
---
Share this post
---
---